Loosening Corsets: The Heroic Life of Georgia's Feisty Mrs. Felton, First Woman Senator of the United States. By A. Louise Staman.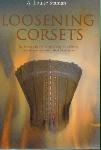 From the Eric Hoffer panel of judges:"In 1922 Rebecca Latimer Felton became the first female U.S. Senator for the term of only one day. This accomplishment might seem insignificant if it were not for Felton's long and active involvement in social reform and ultimately women's suffrage. Born into the destruction of the plantation south, Felton's life parallels the reformation of Georgia from the ashes. Staman is an engaging biographer and does well to show us the landscape as well as Felton's intriguing course of events. You'll finish this book remembering that there isa seat at the table for everyone, if we strive hard enough and demand the very best of ourselves."

Spanning nearly a century (1835-1930) the life of Rebecca Latimer Felton was profoundly changed by the disastrous effects of the Civil War and Reconstruction upon her beloved state of Georgia. Although she had once been a Southern Belle, then loving wife and mother on a large cotton plantation, she began to step out of the traditions expected by southern chivalry and tradition. With her husband's encouragement, she became a woman politician forty-seven years before she got the right to vote. A tireless crusader, her attempts at political and civil reform are set against the backdrop of a state in violent chaos. Sherman's matches, Reconstruction's graft, one-party corruption, the KKK, lynchers, hallelujah evangelicals, chain-gang convicts,the sneering H.L. Mencken "unsexed" suffragists, WCTU crusaders, and something possibly worse than anything else -- a tiny insect called the boll Weevil -- all strut or crawl or sweep across the pages of this work.

Original photos, indexed, end notes,hardback, 266 pages; ISBN-13 978-09787263-1-7; ISBN-10: 0-9787263-1-6

Beethoven in Love by Dr. David Ryback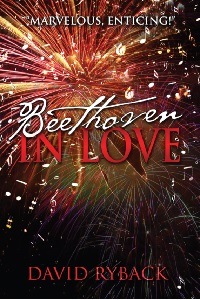 Dr. David Ryback has created a truly special offering. He the author of over sixty articles on psychology, dreams, and motivation, as well as six books, ranging in time from his first, Dreams that Come True (Doubleday, 1988), to his most recent, ConnectAbility (McGraw-Hill, 2010). He offers presentations around the world and also performs on a regular basis on the piano for special occasions. He also offers selections of Beethoven's music and enacts scenes from his novel on Beethoven for various groups and large book clubs.

Beethoven in Love may be the greatest love story of the nineteenth century. The electric magnetism between Beethoven and his Immortal Beloved surfaced at their first meeting. What follows is a passionate tangle of frustrations and delights, beginning in Vienna and culminating in the dark woods of Bohemia. A woman's influence over her man is often hidden, but not for Antonie Brentano, as this love story reveals, for the first time, her role as Beethoven's muse for his passionate compositions.

Prepare to get lost in Beethoven's explosive music as the backdrop for this epic romance in a context of the philosophies of nineteenth-century Vienna, the invasion of Napoleon's battalions, and the vibrant blossoming of music at the time. Beethoven author and scholar David Ryback holds his readers spellbound in a book to be savored for its rich detail, romance, and color – a must read for those who love either music, romance, or both.

$24.99 before discounts. Hard cover. 277 pages. ISBN 978-0-9851745-5-2.

Thank God for Boll Weevils. Written by Rhett Barbaree.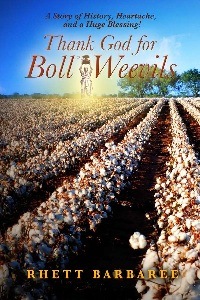 Every now and then a book comes along you just know will be embraced by the generations. Thank God for Boll Weevils is one of them! (Nashville Christian Family Magazine)

Thank God for Boll Weevils is an in-depth look at the Southern soul as seen through the eyes of two God-fearing young women as they grow up in the early 1900's, deep in the "Heart of Dixie." Grabbing your attention with its charming southern dialect, the story entertains you with a rich wit and humor that is reminiscent of excerpts you might read from an old Mark Twain passage.

The primary narrator does a superb job painting the canvas of an era, and of a people who once dominated the Post-Civil War South. Midway through, the book takes a unique turn as it dives into a historical fiction that merges with the factual accounts of George Washington Carver and others, who played an important role when faced with the invasion of a crop eating insect called the boll weevil. What will happen to the good people of Enterprise and Coffee County, Alabama when their way of life, their culture, and their families are being faced with certain devastation?

The author's ability to bring the reader into the lives of these historical figures promotes so much curiosity that one will be scouring the internet investigating the truth beyond the novel.

A much recommended read for anyone who struggles with understanding how they must be able to take their losses, their struggles and their shattered dreams and lift them up to a God who truly cares. (Robert Abernathy Author, The Walk to Walden Hill)

$15.99. Soft Cover. 167 pages. ISBN 978-0-9851745-2-1.

Secrets and Lies -- Memoir of the Kennedy Years. Written by George B. Mettler.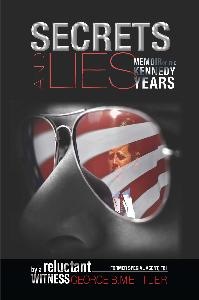 Probably no one has personally known as many people directly or indirectly associated with the assassination of President John F. Kennedy as George B. Mettler. The situation of his life, his residences and his career choices provided exclusive entrance into the world and people surrounding this monstrous act. As a result, Mettler sheds new light on the factors that led to and resulted in the Kennedy assassination. In this memoir Mettler "connects the dots," exposing corruption and deceit at the highest levels of American government and providing a new perspective on the life, times, and death of John Kennedy.

Secrets and Lies: Memoir of the Kennedy Years is the result: a memoir reluctantly written, a promise kept, and a tardy if historically required presentation of the life and death of John F. Kennedy.

It is fleshed out by pictures and Mettler's own paintings, capturing one of the darkest times in American history. In meticulous detail George Mettler presents the personages of this drama, some in stark detail, shows the mistakes of the Warren Commission, and explains how our present-day experiences have been shaped by the awful past.

The result is a shocking, enlightening, and entertaining expose.

Original photos and art work. $20.00, ISBN 978-0-9851745-0-7, soft cover, 240 pages

Tides of Fear. Written by Anne B. Jones.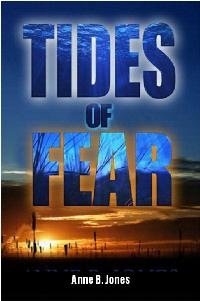 Which is the most dangerous predator? A shark? Or a man? St. Simons Island becomes a scene of panic as bodies are washed ashore. First blaming the deaths on sharks, police soon realize the predator is human. A killer stalks the tourists, luring and drowning his victims as easily as he eludes discovery. Tides of Fear, set on the shark-infested Georgia Coast, includes the hunt for a serial murderer, with water as the crime scene. … As author of Tides of Fear, Anne B. Jones has been compared to Thomas Harris and Jeffrey Deaver, 'without the slice and dice.' The book includes a gripping plot, well-developed characters, and insights into profiling and other forensic subjects. Tides of Fear is unusual because of its use of water as a crime scene with underwater crime scene analysis.

$15.99, ISBN 978-0-9787263-8-6, soft cover, 272 pages.



God's Relentless Love. Written by Edwin Chase, D. Min.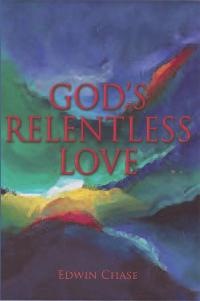 Edwin Chase's second book, God's Relentless Love is perfectly timed as churches and our entire culture undergo dramatic changes caused by a recession, wars, and an uncertain future of fear and worry. Chase's book helps people gain confidence by discovering a fresh perception of God as a loving and kind deity, instead of the dark, angry, punishing God found in so many sermons and texts. In addition, Chase helps the reader to find practical ways to deal with fear, guilt, grief and spiritual malaise. The book is uplifting for both scholar and layman. Combining insight, inspiration and humor gleaned from twenty-five years of practice as a minister and pastoral counselor, the author reveals a remarkable God we long to know but are unsure how to pursue. As a masterful storyteller and scholar, Edwin Chase offers readers a new image of a kind and loving God, derived from scripture, whose relentless love instills courage and strength. Drawing from his spiritual struggles and the experience and research of other Christian writers, the author challenges readers to examine their old and worn-out perceptions of the Almighty and to envision new and compelling pictures of God, which can set their hearts aflame. 131 pages, soft cover, contains resources, a study guide, and suggested readings, ISBN 978-0-9787263-7-9.

Hidden Epidemic. Written by Dr. D. Craig Rikard.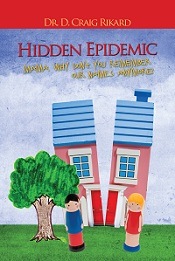 HIDDEN EPIDEMIC relatesthe problems that can befall children with at least one parent who is addictedto prescription drugs. Rikard is in an excellent position to know, sinceas a family therapist he has often treated such youngsters and was himself theson of a mother who was addicted to prescription drugs - particularlyValium. She even refused to seek help for her addiction when she was pregnant, allowing drugs go through the umbilical cord, causing damage to herunborn children. Although addiction to prescription drugs has reachedepidemic proportions in the United States and elsewhere, the children ofaddicted parents are expected to keep their parents' problems strictly secret -hidden from others. This situation causes the child to live in twoworlds: the home, which may be filled with abuse and neglect; and theoutside world where the child is expected not just to be obedient, but toappear normal and happy. They are robbed of their childhoods and forcedto act as if nothing were wrong. In his semi-autobiographical book Rikardnot only describes in detail the children of addiction, but also shows thereader how to seek and get help for these children, and even remain anonymous -- help badly needed in our society.

150 pages, soft cover, contains resources and suggested reading, ISBN 978-097872635-5.

Where Did Bootsie Go? Written and illustrated by Billie Dixon.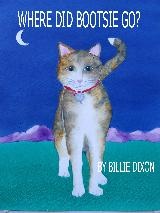 WHERE DID BOOTSIE GO? is a beautiful large-size children's picture book of thirty pages drawn by hand in watercolor and written by BillieDixon. It's the story of Billie's cat Bootsie who has disappeared for three weeks. Billie posts pictures of the cat, offers rewards, and nearly gives up hope until one day Bootsie reappears, well cared for and content. Billie wonders where the cat has been. Then she draws where the cat might have gone. "Did she take a train to Boston to eat clam chowder?" Or did she catch a comet by the tail and walk back down the rainbow…or maybe swim with the fishes or go camping with friends? Bootsie does not even give her owner a hint of where she has been. All she does is let Billie know how glad she is to be back. And Billie, of course is thrilled to see her beloved pet again. The results of Bootsie's adventures are a delightful imaginative book, fun for all ages, even adults. Bootsie really did disappear for three weeks and came back just fine. She hadn't lost weight and her coat was smooth and shiny. Billie could not resist creating pictures of imaginative and colorful places where her little calico cat might have gone.

Original illustrations. Thirty pages. Hardcover. ISBN-13: 978-0-9787263-4-8 ISBN-10: 0-9787263-4-0

Patches of the Quilt: True Stories from aChildren's Home. Written by the adults they became. Edited by EdwinChase and Bill Chase.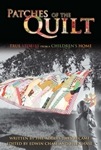 If you are looking for fascinating readingthat is quite different from the usual books upon the shelves of bookstores,try reading Patches of the Quilt: True Stories from a Children's Home," editedby Edwin Chase and William Chase. Perhapswhat is most unusual about this work is that its authors are adults who onceresided in the Methodist Home for Children and Youth in Macon and otherlocations in Middle and South Georgia. Oneformer resident explains, "None of us, who tell our stories in this book is aprofessional writer. We are secretaries, nurses, ministers, teachers, mothers,and fathers...." Here is an amazing book of laughter and tears, beautifullywritten by passionate amateurs, recounting the true lives they once led as childrenof an orphanage that slowly transformed itself into a home.

Thisbook is filled with pictures and stories, some dating almost to the founding ofthe "Home," in 1872. These images do notgive the impression one might expect of an impersonal institution housingunkempt, frightened children under lock-step conditions. Instead,even in the depth of the Depression, the influenza epidemic, and the terror oftwo World Wars, the "Home," as its residents called it, maintained a spirit ofnurture and care that provided its children with a good life, training for thefuture, hope, faith, good food, nice clothes, and fun, sometimes even stellar, mischievous,marvelous pranks.

Thespirit of Patches of the Quilt isindescribable, its reading too short, providing a glimpse of childhoodsrestored, children belonging, and stories, while true, that are sometimesbeyond belief.

Original photos, hardback, 240 pages. ISBN-13: 978-09787263-3-1; ISBN-10: 0-9787263-3-2

Nick's New Heart: The TRUE STORY of Love, Strength, and Courage. By Susan May.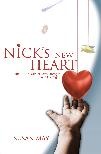 NICK MAY WAS ONE OF THE FIRST SUCCESSFUL HEART TRANSPLANTS IN THE UNITED STATES, PERFORMED ON A ONE-YEAR-OLD BABY. This story is told by his mother.

Most people associate heart problems with old age. However, many children also suffer serious heart, kidney, eye or other medical problems that once were insurmountable. In the past, infants with the heart defects that Nick once had invariably died. However, with surgical and medical advances, this sad situation has changed, providing not only life for these children, but a good quality of life. The story of Nick is similar to a roller coaster ride without seat belts or safety bars. Here is a true story that is often more dramatic than fiction, as excellent doctors worked together with a caring, intelligent family not just to save a life, but to provide a good life. Great experiences, deeper understanding, hope, love, faith, and steadfast support from friends, relatives, nurses, staff, and doctors have been the result...along with a wonderful book.

Author SUSAN MAY skillfully weaves a story of strength, ability, determination, faith, teamwork and inspiration in her book, as she recounts the story of her baby Nick and the overwhelming odds he faced. Although his birth at first seemed normal, Nick's worried mother asked, "Is my baby fine?" Her question either went unanswered or was met with a simple, "I do not know. More tests are needed." She did not realize then that the adventure had only begun, as tests revealed that this baby had a catastrophic problem potentially more deadly than cancer. The author describes the brilliant care and dedication of the highly-skilled doctors and staff who were able to turn the life of a dying baby from a tragedy into a triumph. Often touching, sometimes sad and scary, sometimes funny, this story demonstrates the extraordinary results of doctor/family teamwork, positive attitudes, and the needed support of others when a serious medical condition strikes any child.

Original photos, hardback, 182 pages. ISBN-13: 978-0-9787263-2-4; ISBN-10: 0-9787263-2-4

Rupert and the Bag. By A. Louise Staman and Illustrated by Rich Adams.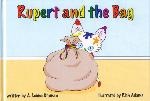 A story for all ages about a little kitten that is forbidden to enter a bag, and, of course, does so with great gusto. Teaches color, color combinations, tolerance, and the wonderful results of sharing talents. Thisbook is wonderfully illustrated by famed western artist, Rich Adams,who deliberately makes the book more colorful with each turn of thepage.

Original illustrations, hardcover, 35 pages. ISBN-13: 978-0-9787263-0-0; ISBN-10: 0-9787263-0-8

With the Stroke of a Pen. By A. Louise Staman.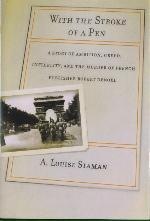 On the night of December 2, 1945 a famous publisher and three lawyers met together ona deserted Paris street corner. That meeting went very well for the lawyers.But the publisher received a bullet in his back.

Robert Denoël left his native Belgium and came to Paris in 1926 with virtuallyno money or contacts. Within a few years he founded his own publishing house --Les Editions Denoël, and by the time of the Nazi Occupation, he was one of themost significant figures in the history of French publishing. But Denoël wasnever good at following the rules. He published works by the Communist LouisAragon and the Russian Jew Elsa Triolet (both French resisters) along with theanti-Semitic Celine and the fascist Lucien Rebatet. Caring more about greatliterature than political expediency, his decisions often put him at odds withthe Nazis, the Vichy Government, and even with liberated France.
Denoël's murder, and the subsequent acquisition of his company by his arch rival,involves a web of crime, murder, betrayal, love, and cover-up not often foundeven in the most intricately plotted crime fiction.

"Using sensitive documents recently unsealed by the French government, authorA. Louise Staman traces the events leading up to the infamous murder, andilluminates a fascinating cast of characters set against the backdrop of Franceduring the roaring 20's, turbulent 30's, the Nazi Occupation, and theLiberation. WITH THE STROKE OF A PEN is both a riveting true crime story andmesmerizing biography of a fascinating man. The story of Robert Denoël has beenlong untold, and his murder officially unsolved—until now."

Originally published by St. Martins Press, this book by A. Louse Staman is now available through Tiger Iron Press. Original photos, indexed, endnotes, hardback, 354pages. ISBN-10: 0-312-27213-8

Home-Grown Georgia Poems. By A. Louise Staman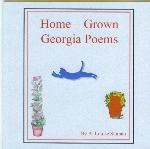 "Home-Grown Georgia Poems" is a little likecomfort food. It shows the beauty of Georgia in its different seasons, the landand its people. It also describes the antics of the cats who have at one timeor another lived with the author in her home state of Georgia. This is a book designed to providehappy moments. It makes a fine little gift for a friend or family member.


Soft cover, illustrated, 18 pages, no ISBN.